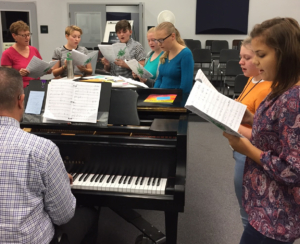 Committed to educational outreach, The Venice Chorale sponsors an Apprentice Program for select high school students. Through the years, several of our students have gone on to careers in music, many to enjoy singing in community ensembles, all benefiting from their experience with The Venice Chorale.
Each season (September thru April), students will rehearse weekly and perform with the adult Concert Choir in three concerts at the Venice Performing Arts Center.
Auditions are held in September and 5-10 high school students are selected by our Artistic Director to participate in the program. They are eligible to receive up to a $1000 scholarship that can be used for music education, performance opportunities, singing lessons and other related activities. Contact info@thevenicechorale.org for more information.